The upgrading of Freyberg Place, the development of The Chancery, and the building of The Metropolis have furthered the vibrancy of an already vibrant area of Auckland's CBD. The area's historic buildings, which have been energetic with commercial and domestic life for much of the past hundred years, now happily coexist with the new. Presented as a series of narratives projected onto the windows of the Pioneer Women's Memorial Hall, Aquarium celebrates these buildings, and the life that has prospered, endured, and continues to exist within.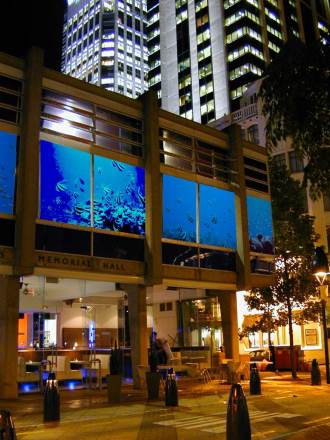 Aquarium for Auckland Festival, AK03
Aquarium is accompanied by the music of Simon Fisher Turner.
Thanks to: Auckland Festival AK03, Auckland City, Creative Communities, Creative New Zealand, Boxing Central, Hollywood Fish Farm, and World.